with external regeneration for workshop vehicles and building machines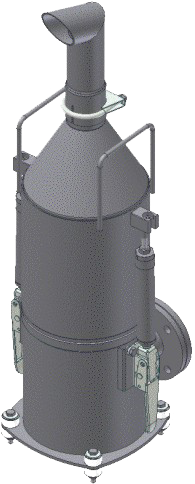 Example: EWR 30
Diesel-engine exhaust gases are dangerous substances which have been proved clearly to cause cancer (see MAK-TRGS 500/900 and UVV-VBG 113).
With the ETB particle filter, type EWR, observance of the existing and the expected future particle limits is guaranteed.
The Main Facts:
Extraction of soot particles ca. 98 %.
Operating time about 8 to 10 hours.
Simple, rapid filter change (Quick-release couplings).
Suitable for shift working (easy-change filters).
Electronically controlled filter regeneration within 30 to 75 minutes.
Regeneration of several filters one after another.
Installation vertical or horizontal (swivel/portable).
Little space required, visibility not disturbed.
Replaces the exhaust silencer.
Filter with internal regeneration, see type ECR.